Criminal Defense Attorney Denver, Colorado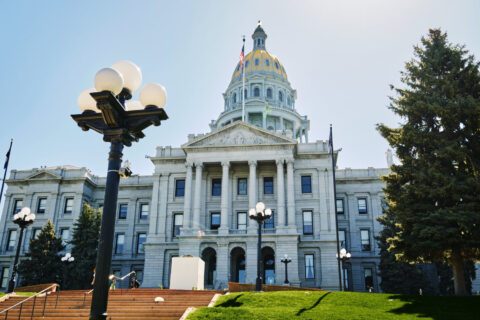 If you're being investigated or you've been charged with a criminal offense in Colorado, Juba Law encourages you to contact our Colorado legal defense group as soon as possible. When facing a criminal investigation, working with an experienced criminal lawyer is in your best interest. Our attorneys know the complicated details of state and federal criminal procedures and laws, and we are more than equipped to handle any criminal case brought before our team.
Let our criminal law firm guide you through the legal process, protect your rights in court, and help you reclaim your life.
Understanding Colorado Criminal Law
The Colorado criminal justice system is complex, so working with a criminal justice lawyer is essential to reach the best possible resolution for your case.
Every team member is adept at handling various criminal defense types. We understand and apply Colorado criminal law in every aspect of our work and know how to represent clients efficiently and with compassion.
Navigating your case alone can have detrimental effects if you've been wrongfully charged. Avoid making any statements during or after your arrest until you have consulted a Denver criminal defense lawyer.
State, Municipal & Federal Court Experience Across Colorado
When seeking criminal defense in Denver, Colorado, it's essential to choose a proficient team in state, municipal, and federal legal practice. At Juba Law, our attorneys have years of experience representing clients in various court settings. We have defended individuals charged with offenses up to the federal level. The experience we have built over the years has provided us with the skills necessary to navigate complicated cases. Let us protect you throughout the proceedings in criminal court in Denver.
Facing Criminal Investigation or Arrest
Facing a criminal investigation or awaiting an arrest is understandably nerve-racking. As the top Denver, Colorado criminal defense lawyers, our team would like to remind you that you don't have to wait for your arrest to reach out for legal support. If you suspect you'll soon be arrested or investigated, contact our office as quickly as possible. Our Denver criminal lawyers can provide legal advice to protect you from incriminating yourself or being intimidated by law enforcement.
Legal counsel from the very beginning of your case can significantly improve your chances of a favorable outcome, so if you anticipate an arrest, take a proactive approach.
Different Types of Criminal Cases We Handle
A Denver criminal defence attorney can represent you in a variety of case types, including but not limited to:
Murder – Murder is the most serious crime you can be charged with, and if you find yourself facing these charges, you'll need a expert criminal attorney to represent you in your case. Our firm represents clients charged with homicide offenses in state and federal court.
Assault Charges – Juba Law's criminal defense law firm handles all assault cases in Colorado, including domestic violence charges.
Domestic Violence – A domestic violence attorney is experienced in making sense of these potentially devastating cases.
Criminal Mischief – Charges of criminal mischief in Colorado can encompass an array of activities, including property damage, so if you've been charged, let us represent you.
Drug Crimes – Drug crimes can vary significantly in their possible consequences, so it's crucial to trust a drug defense attorney in Denver for the best outcome.
Fraud – A criminal justice attorney is essential when facing fraud charges. Let us help you through your wire, insurance, credit, or any other form of fraud case.
Gun Crimes – Criminal charges involving gun possession or usage are quite severe, and to avoid complications, contact our criminal defense lawyers immediately.
Sex Offenses – As the best criminal defense attorney in Denver, our team members are skilled in representing clients in many sex offense cases.
Traffic Cases – Being convicted of a traffic crime can affect your driving ability for years. Let our team help you reach the best possible resolution during your case.
Weapon Charges – Juba Law is one of the best criminal law firms in the state, and because of this, we are experts in handling various weapon-related cases.
Theft – No matter the severity of the theft charges you're facing, Juba Law is here to help protect your rights and help you reach a beneficial solution in court.
Finding the Best Criminal Mischief Lawyers in Denver
Finding an experienced, professional attorney is essential if you face criminal charges. Whether you're looking for a domestic violence lawyer in Denver, CO, or you need the top federal defense attorney in your area, you've come to the right place. Juba Law's team is skilled in handling various criminal case types. We are simply the best option for criminal defense attorneys throughout Colorado.
How a Criminal Attorney Can Help You
Criminal attorneys understand the court system and are experienced in following legal procedures, two skills essential in resolving criminal cases. The last thing you want to do is overwhelm yourself by attempting to navigate your case without proficient help. When our team represents you, we strive to protect your rights and help you reach the best possible conclusion following your case. We know how to present evidence, outline the facts professionally, and speak to the judge on your behalf.
Denver Criminal Defense Law Firm: Protect Your Future
Juba Law employs attorneys who have been practicing in specific fields for years. Whether you need a domestic violence lawyer, a lawyer for drug crimes, or representation for a federal case, we are equipped to help. Our attorneys are highly skilled in representing clients during criminal cases, and we will work tirelessly to secure you the best possible outcome following your case. There is no case type we haven't handled, and because we have worked for years to achieve our expertise, we are confident in being your most incredible line of defense.